Horses are back with a vengeance! I remember my first love for horses, when turned four or five and got a My Little Pony for my birthday. Unlike some of my friends and cousins, my passion for horses was short lived, but it's easy to see how people become so obsessed with these beautiful creatures.
Milk from a Thistle - Sophia Silk Skirt Stallion Print
This is a skirt I marvelled over on my walk home from work, at Harry and Gretel in Leederville a few weeks ago. The print kind of reminds me of the majestic portrayal of horses in the movie Black Beauty, a film I adored in when I was about 8.
Random cake from a Frankie blog post
Horses Stampede by Florence Broadhurst
I'm reading the story of Australian screen print designer
Florence Boadhurst
at the moment. She began her career as a screen print artist at age 60 proving to us all that it's never too late to start something new! This print is one of her early prints from the 1960s but all of her desings are amazing. You can buy them on
fabric, wallpaper
and even
floor rugs
.
Photo by Jillian West of Little Bat Photography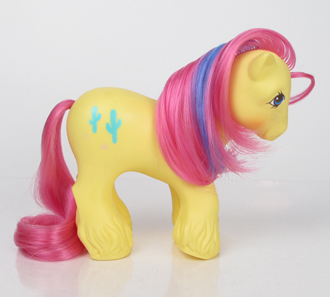 Tex
This was the My Little Pony I got for my 4th or 5th birthday. I found the photo online (I don't think my mum kept mine). I remember thinking he was the prettiest toy/horse!


That's my brother on the horse. My mum's the lady in the blue pants in the background and I'm the baby she's holding.

Karli